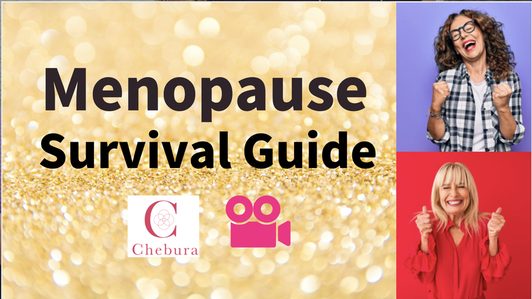 【Shop】Menopause Survival Guide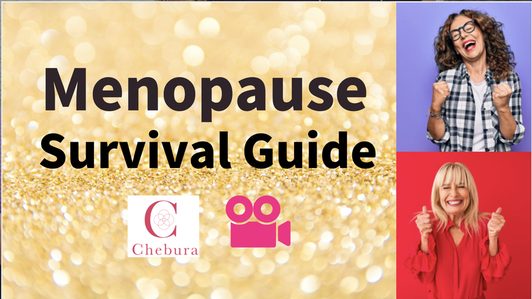 1. Video "Physical and emotional health care for working menopausal women"
This video contains a lecture that you can learn about menopause and several types of Chebura exercises which you can do anywhere with no equipment!  Chebura exercise works for not only menopausal symptoms but also  PMS and disorders during pregnancy and postpartum.
<Language> Japanese / Subtitled in English
2.  Textbook(Menopause Survival Guide P44)
Menopause Survival Guide / Web Book
Best book to know more about menopause, and make your mind and body lighter!
<Contents> Introduction / Analyzing female hormones in our lifetime / Role of female hormones / Current state of menopause / Mechanism of female hormone secretion / Various symptoms of menopause / Menopause and Illness / Treatment for Menopause / 3 points of gynecological examination to convey symptoms in an easy-to-understand manner / Chebura Exercise(Adjusting autonomic nerves / Eliminating stiff shoulders / Small face care / Preventing urinary incontinence with leg and hip workouts/ Cold and numbness in fingers and feet/ Easy to gain fat on your body ) / Relationship between menopausal symptoms and exercise / My experience of menopause / Andropause/ Menopausal Symptoms Self-Check (male & female) /Message from Experts(Doctor / Midwife) /Health storage starting from now /
This service contains these. (All online)
・Video(60 minutes with English subtitles)
・Life Career Design Worksheet.
・Textbook(Menopause Survival Guide P44)
You can watch the video from your smart phone, computer, or tablet.
To have "fullfilling days"
You can buy it here!!
↓ ↓ ↓ ↓ ↓